Support our work for Anti-Corruption & Budgets Open Data Research & Development 2017
We need to raise at least RM75,000 to fund research for a team, to build a more complete and up to date public Politically Exposed Persons Malaysian database for anti-corruption work and also in preparation for upcoming elections
Details
Current funding status: RM 2,800/75,500
It will go towards funding Sinar's team consisting of senior developers/project manager/researcher, senior developer and researcher.
The planned activity and outputs for first quarter of 2017 for this project appeal are:
Output: A rewrite of accountable.sinarproject.orgconnected to Popit/API and an API for public tracking of joined up data to corruption and mismanagement issues. The new website will also be able to store and track updates with sources.
Activity: Local collaborative research workshop with local transparency researchers
Research Output: Interests (posts & positions) in organizations of current MPs and State Legislators and publish as open data
Research Output: Collect and publish current and past heads of Malaysian political parties as open data
Research Output: Collect and publish Malaysian Government Agencies and Senior Public Officials as open data
Research Output: Current Malaysian Judiciary, prosecutors and their interests as open data
Output: Cargografias Visualization of Careers of PEPs in Malaysia
Why?
Systematic corruption and poor governance at all levels
Never held accountable, politicians, senior public officials continue their actions with impunity (We need automatically keep track of their interests, relations, corruption and mismanagement issues)
Need comprehensive Malaysian PEPs and posts public database to be able to work with international efforts at uncovering complex international money laundering mechanisms
Need comprehensive list of Malaysian politicians and PEPS and links to their issues and interests for upcoming elections so better public can have better applications and access about their candidates, including any issues and connections they may have with corruption cases directly or indirectly, and whether they supported actors that were directly implicated
Public database needed to build public transparency and accountability applications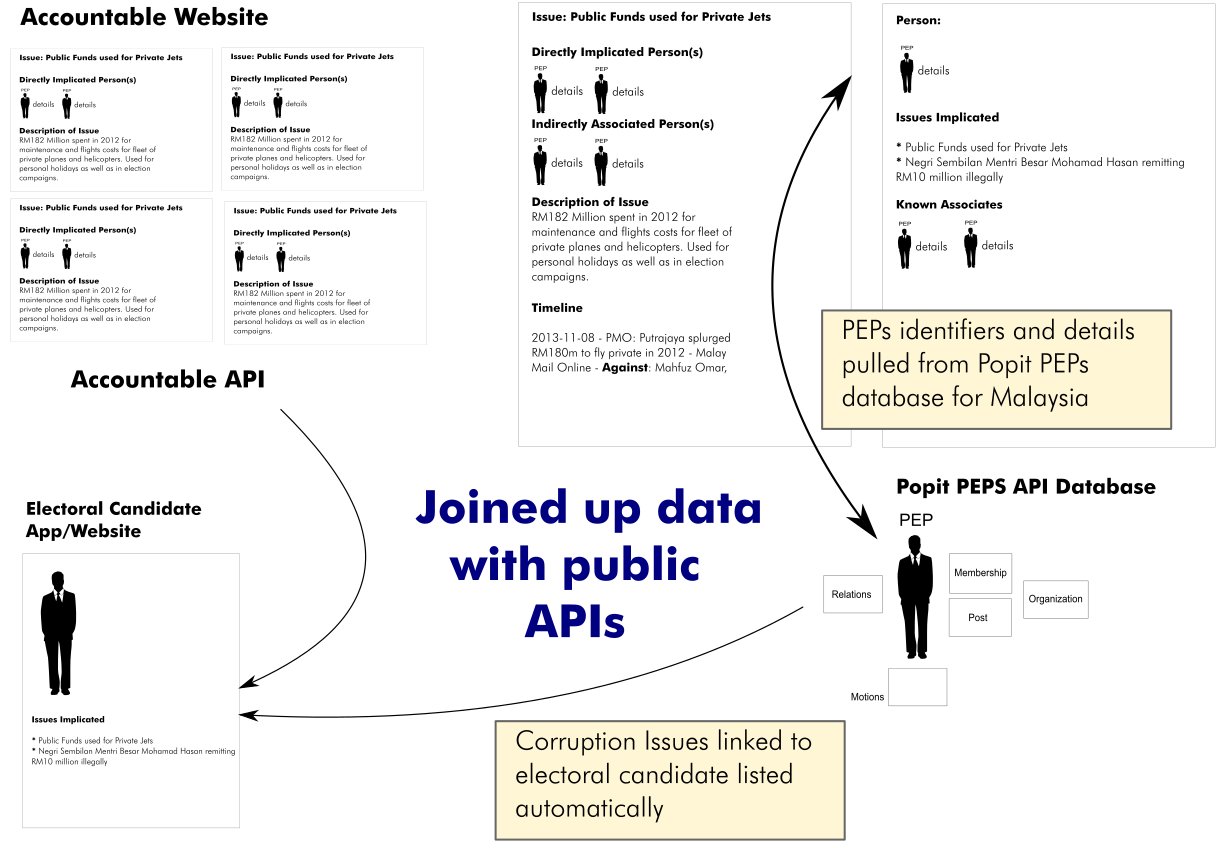 Research data needed to uncover complex international corruption and money laundering cases
What's possible with even current limited dataset on PEPs showing political party and organization connections of PEPs as well as joined up data on properties from international sources such as Panama Leaks.
Some of initial proof of concept applications built around this database:
How to contribute?
Making monetary contributions to Sinar Project is easy. You can make a bank transfer or deposit to the following account. If would like it for specific output of interest to you or in general let us know. Else we will allocate it to most pressing project/needs first.
| | |
| --- | --- |
| BANK |    Malayan Banking Berhad (Maybank) |
| SWIFT-BIC |    MBBEMYKL |
| BENEFICIARY |    Sinar Project PLT |
| ACCOUNT |    512307614259 |
General Membership
You can also contribute annually and get some shirts and stickers by becoming a contributing member.
How do I track progress of projects?
Live detailed updates, which can be subscribed to are published on our 2017 public on-line board
Other ways to contribute
See our Contributing page on a variety of ways for you to help us build these public tools and resources
Story Type: Update